Da Nubuck hay Da Suede? Cùng tìm hiểu những đặc điểm riêng để lựa chọn.
Let me start by saying my family has given me some lovely
suede
gifts, including a designer bag, boots, and a jacket. Now, they didn't all come at the same time; these were gifts spread out over the course of several years.
However, that side of the family never gives a gift just out of the kindness of their hearts. They have a weird habit where there is a dollar amount they have to spend because whatever math they did during the year determined that particular figure to equate to whatever degree of love they want to offer.
Moreover, when they give a gift, it always comes with a condescending list of instructions ("Don't eat or drink near the laptop," "Remember that this was expensive so you can't treat it like you would the things you buy," "Don't wash it on hot"). No explanation is ever given to accompany these instructions, just an Asian death stare.
When my original set of instructions was to never get my suede leather items wet, I legitimately asked why that is. After all, suede leather comes from a cow, and cows stand out in the rain all the time. Obviously, I got nothing but the aforementioned Asian death stare.
It wasn't until I got the items wet and permanently stained them that someone unrelated to me by blood explained why I was given those instructions. So now I'm going to do the same for you.
Bottom Line Up Front
Both nubuck and suede come from the same source, but they're different parts of a cow's hide. When comparing nubuck vs. suede leather, I prefer suede for the touch but nubuck for utilitarian things like work boots.
Where luxury is concerned, my top pick is the Suede Wallet. Where functionality is concerned, I pick the Timberland PRO Work Boots.
Nubuck vs. Suede Leather Main Differences
Whether you are buying pre-made items (think boots and bags) or you plan to buy leather online and make your own crafts, knowing the differences and similarities between nubuck and suede leather are important:
| | |
| --- | --- |
| Suede | Nubuck |
| Made from rubbing or sanding the inside layer of the hide | Made from rubbing or sanding the outside layer of the hide |
| Soft and supple | Less soft to the touch |
| Not as durable | More durable |
| Used for high-end footwear, gloves, purses, and other applications that have direct skin contact | Used for more durable (and slightly more waterproof) shoes, boots, bags, and jackets |
| Clean with a rough brush and, if necessary, rubbing alcohol | Clean with a soft brush or toothbrush |
Durability and Texture: Nubuck vs. Suede Leather
First, when you think of leather, you think of animal hide, or at least I do. That was my mistake. 
Nubuck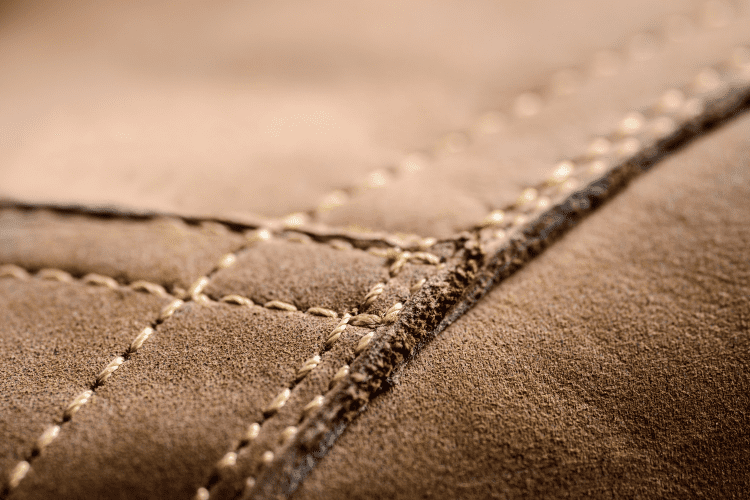 Nubuck was traditionally made from buck (deer or elk) skin. Today the nubuck items you get are more likely made from calfskin. 
Now, nubuck leather is exactly what I was thinking about when I was given suede gifts. Nubuck leather is the outside part of the skin (the part of the cow that gets wet in the rain). 
I was confused because suede actually looks more like hide or skin, whereas nubuck doesn't. The reason for this is that nubuck leather is actually sanded or buffed on the outside. This gives it a larger section of protein fibers. 
This makes it slightly more durable, and it can usually tolerate walking (or singing) in the rain, although, as my Asian family has since reminded me, you still shouldn't really get any leather items wet if you can help it (yes, because I control the weather the one day per year I bring out my leather jacket). 
Pros
Nubuck is durable and easier to clean
It has better water resistance compared to suede
It offers great breathability
Cons
Color fades with exposure to the sun because of its low UV resistance
It gets stained very quickly
Suede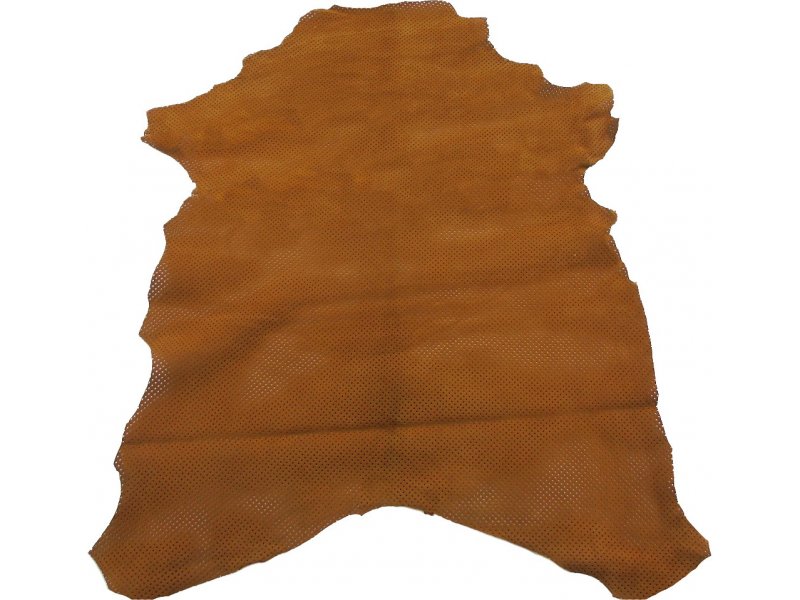 Suede leather is not the exterior of the animal hide but rather an inside layer, so it doesn't have the same protection as the exterior leather (in other words: it isn't the layer of the cow that gets wet).
Suede is made by rubbing or sanding the inside layer of the hide.
Since it is crafted from the underside of the skin, it is more supple (softer to the touch, or another way of putting it: more expensive), but it is also less durable (don't get it wet!) 
Because it comes from the inside layer, it isn't as nappy or furry. It doesn't have as many protein fibers on the part you would wear or touch. 
Tip
If you don't want to deal with the risk of stepping in a puddle or knocking over a water bottle while walking through the kitchen, you can apply wax to the outside of your suede, making it more water-resistant.
Pros
It looks great and has the softest texture
It offers great breathability, and its pliant nature adapts to your hands or feet
Cons
It is more expensive than most leather
It is difficult to maintain — it stains easily and lacks waterproofing
Nubuck vs. Suede Leather
Care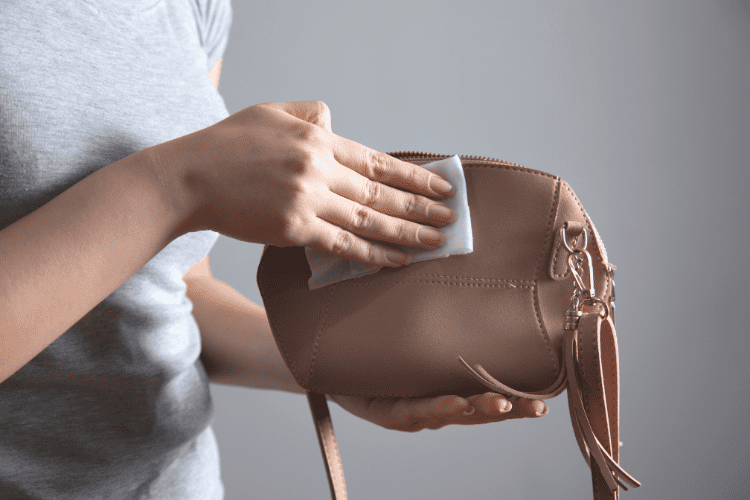 Nubuck
Nubuck leather is a little bit easier to maintain. You can use a nylon brush or even convert that old toothbrush that you should have been replacing once every three months.
Either way, it helps to raise the nap of the protein fibers that comprise the exterior of the nubuck and gets rid of any dirt that might be clinging to the surface. 
Tip
Even though nubuck leather is slightly more durable, you should avoid getting suede or nubuck leather products soaking wet. If they are wet, dry them as quickly as you can to reduce the harm and staining effect. Repeated exposure to any type of liquid can compound and damage the structure. 
Suede
It didn't take long for my suede leather bag to get some stains. It wasn't water but rather everyday oils and dirt from my hands or the ground. Suede actually traps dirt much more easily than other leather because it has a raised texture, so taking care of it is a bit of an ordeal (if you want to do it the right way). 
A brush is ideal for cleaning because it helps get under the protein nap and remove dirt. Think of it as power washing your carpet.
Those big machines you rent from the grocery store are generally so effective because they shoot water straight down through the nappy carpet fibers and remove any dirt that was buried on the bottom. 
Tip
Avoid using any type of leather cream, polish, lotion, or oil on either nubuck or suede products because they are likely to leave a stain.
A dedicated suede brush, crepe brush, or brass wire brush works exactly the same way for your suede. 
My bread and butter for removing difficult stains on any item of clothing or shoes I own is usually water, but seeing as I'm not allowed to bring water within 10 ft of my suede objects, a much better solution for easily cleaning difficult stains is to use rubbing alcohol which evaporates very quickly, so it won't contribute to or worsen the stains you have. 
Alternatives to Nubuck and Suede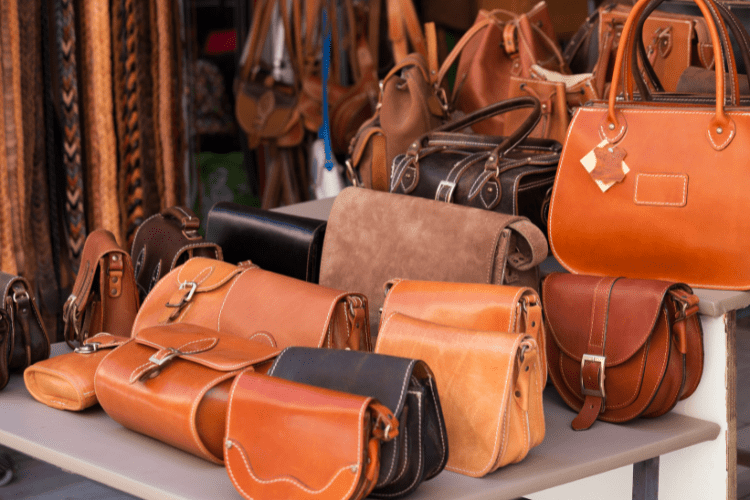 Now, if you don't like the hassle of nubuck vs. suede leather care, you can easily invest in some alternatives.
Regular Leather
Regular leather is the first alternative. It is animal hide too, but it has been treated. You can find a range of textures and aesthetic qualities depending on how the leather was treated. For example, some leather products are infused with oils or waxes to keep them shiny.
Synthetic Leather
Microfiber Synthetic Leather is a great alternative because it has the same feel as suede, but it is synthetic, so you can get it wet all day long. In fact, it has anti-bacterial and anti-mildew properties, so if it does get wet, it won't be a huge problem.
Nubuck vs. Suede Leather Goods
Now that you understand the difference between the two, I have included a handful of great leather products that you might consider gifting to your family.
Selection Criteria
These items represent some of the most popular nubuck and suede applications, including footwear, bags, and gloves. I chose them based on the quality of the design. 
When picking leather goods, be aware that good manufacturers will note the score or rating their tanneries receive. Gold is obviously the best, followed by silver and so forth. These scores are based on things like:
Their environmental policies

Energy consumption

Waste management

Worker safety

Water usage

And the quality of leather
Suede Wallet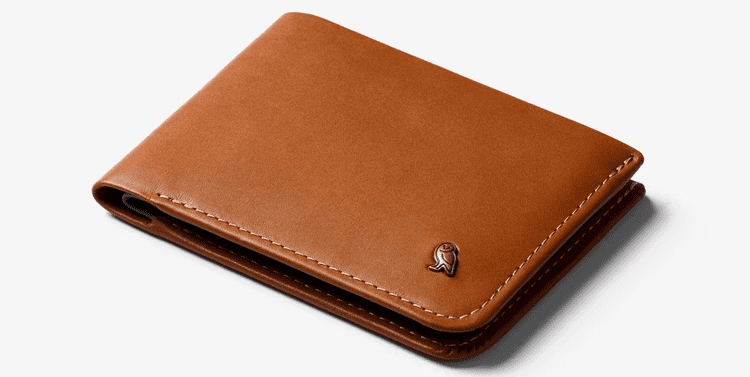 If you are worried about people scanning your cards from a distance, this Hide and Seek Suede Wallet is top of the line. It has RFID protection built into the wallet. The manufacturer sources their suede from gold-rated tanneries. 
You can store more than twelve cards inside the wallet, as well as flat bills and coins. The coin pouch and flat bill sections are hidden from view, so it isn't obvious that you are loaded when you pull out your wallet. There are four quick-access slots for your most important cards, though. 
Suede Leather Gloves
Items with close proximity to the skin are often suede, and the Suede Leather Palm Large Glove is a great example of this. Intended for construction or gardening settings, they keep your hands soft and comfortable (just don't use them while operating the hose). 
The leather palm is designed to be puncture resistant. The same suede leather runs along the knuckles for increased protection. There is a rubberized safety cuff on the inside, which is quite common for work gloves; this makes it easy to slide on and keep secure. 
Men's Premium Nubuck Gloves
As mentioned, most products that have some sort of direct skin contact are made with suede unless, of course, you need durability. These Men's Premium Nubuck Gloves are made from the exterior side of a goat. Then they are made of nubuck leather.
They are incredibly thick, so grabbing a board with old nails still intact won't present a problem. I love that they are heavily insulated with brushed fleece inside. This makes them great for winter weather (though a bit much for hotter summers). 
Timberland PRO Work Boots
Nubuck is a bit more durable and weatherproof than suede. That is why it is commonly used to make work boots. One great example of this is the Timberland PRO Workboots. 
These come in all sizes with a waterproof exterior, waterproof seams, and a padded top collar. 
They have steel toes too. 
In fact, my dad has worn these boots for work as far back as I can remember, and once, when dropping me off at the immediately-post-9/11-airport-security-line he refused to take his work boots off (something I understand as an adult; after a day of hard labor, when your feet are swollen, sweaty, and dog tired there comes a point when once those boots come off, they aren't going back on). TSA brought in four oversized men to growl in his general direction and try to bully him into taking them off. He stood his ground, and I missed my flight. Hooray. 
Nubuck Leather Jacket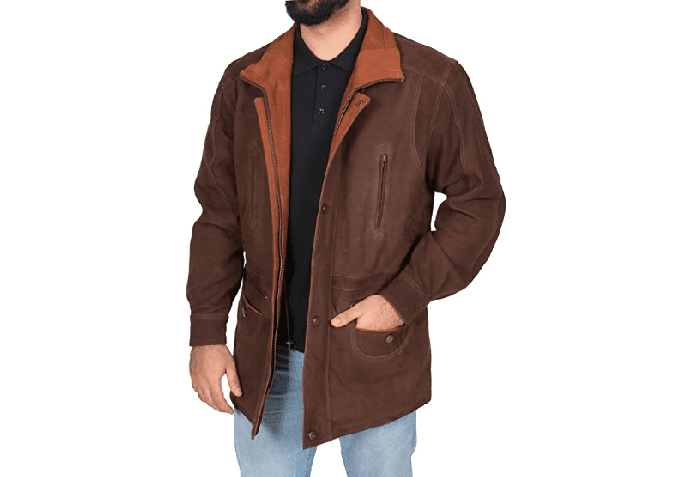 There is the Men's Real Nubuck Leather Parka Jacket for more stylish occasions. This is 100% pure nubuck. The inside has an orange tint to it, while the outside is a dark chocolate brown. This mixture of brown and tan trim matches well with just about any outside, not to mention the fact that it is incredibly soft. 
Customers have found that the ¾ length is quite fashionable. The heavier design makes it ideal for Autumn or winter. The jacket comes from the UK, so you certainly won't find a stock jacket similar to this. If you make your own leather wallet, you can store it in your jacket pockets. 
Coach Soft Leather Bag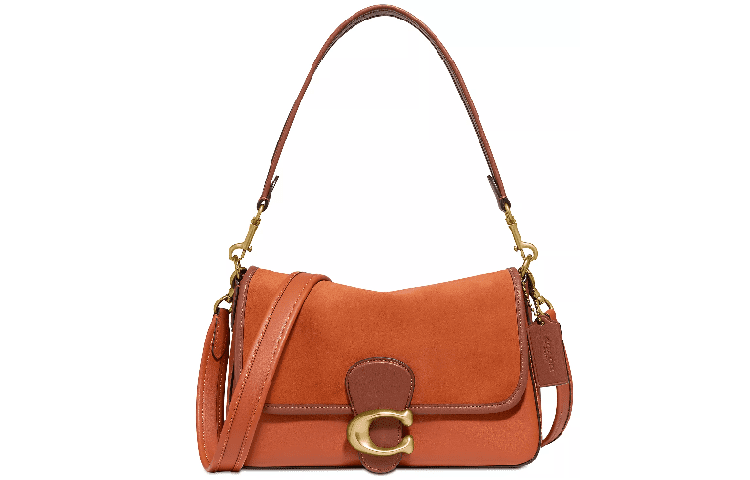 Coach is one of many designers that provides a range of suede leather purses and bags. I have one, in fact. The Soft Tabby Leather Shoulder Bag is one such example. It is suede with a removable strap, snap closure, and interior/exterior pockets. 
Coach Gusset Lori Shoulder Bag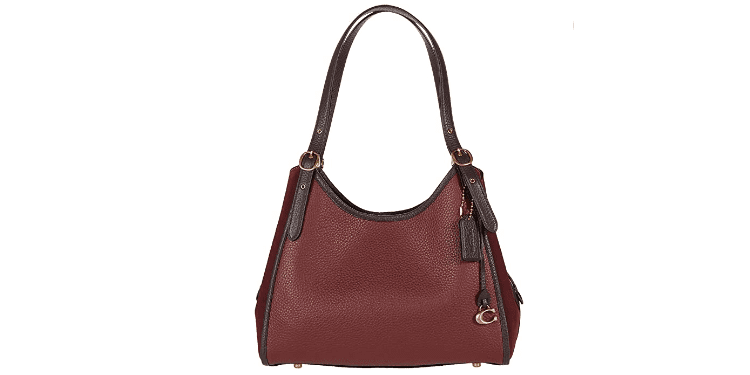 Coach also makes the Mixed Leather with Suede Gusset Lori Shoulder Bag. This bag is quite popular as an everyday use bag. It comes with soft pebble leather and suede, as is common for most Coach bags. There are protective feet, so your bag never actually touches the ground when it is on the ground.
You get adjustable buckle straps, magnetic snap pockets, and center zipper pockets. A homemade passport wallet will fit snugly inside. 
FAQs
Question: Does Nubuck Scratch Easily?
Answer: Yes, nubuck leather scratches easily. It is natural leather which means if you get a deep scratch, it exposes the grain. You can try to disguise a deep scratch by brushing fibers over the scratch much the same as a balding man would comb over his hair.
Question: Is Suede or Nubuck Leather More Durable?
Answer: Nubuck leather is more durable because it is the outer layer of the hide. Think the part of the cow in the rain. The inner layer used for suede leather is much weaker even though it does have a velvety touch.
So, if you are looking for leather goods, clothing, or footwear that you can use on a job site, nubuck leather is a better investment than suede leather.
Question: Is Suede Cheaper than Nubuck Leather?
Answer: Suede is often less expensive than nubuck because manufacturers can use lower-grade pieces of leather and still achieve a softer texture.
Question: Is Nubuck Leather Good in Snow?
Answer: Nubuck leather shoes and boots can be worn in the snow, but you have to make sure they are waterproofed. There is a multitude of products you can consider for the waterproofing process.
Bottomline
Nubuck vs. suede leather comes down to very fine details; both can come from the same source, but they feel different and have different levels of durability. My top suede pick for the softness is the Suede Wallet. My top nubuck pick for functionality is the Timberland PRO Work Boots.
For more interesting readings, check out:
Kết thúc
Ngoài các bài viết tin tức, bài báo hàng ngày của Ngọc Quang, nguồn nội dung cũng bao gồm các bài viết từ các cộng tác viên chuyên gia đầu ngành về chuỗi kiến thức thời trang được chia sẽ chủ yếu từ nhiều khía cạnh liên quan chuỗi kiến thức này. https://vietnamleather.com/ là tạp chí thời trang trẻ, xu hướng thời trang mới của giới trẻ hiện đại. Phong cách thời trang đa dạng, phong phú, phù hợp phong cách giới trẻ hiện nay. Bạn có thể dành thời gian để xem thêm các chuyên mục nội dung chính với các bài viết tư vấn, chia sẻ mới nhất, các tin tức gần đây từ chuyên gia và đối tác của Chúng tôi. Cuối cùng, với các kiến thức chia sẻ của bài viết, hy vọng góp phần nào kiến thức hỗ trợ cho độc giả tốt hơn trong hoạt động nghề nghiệp cá nhân!
* Ý kiến được trình bày trong bài viết này là của tác giả khách mời và không nhất thiết phải là Ngọc Quang. Nhân viên tác giả, cộng tác viên biên tập sẽ được liệt kê bên cuối bài viết.
Trân trọng,
Các chuyên mục nội dung liên quan